SMOK Priv One Kit, for Vape Shop
Today, I would like to share my recent experience about SMOK Priv One Kit. Of course, I have seen majorities of reviews about this tiny cute kit. All are "flatty words". That's why I want to share this honney vape.
Hands All Over—— 74.2 x 44.4 x 24.4 mm
You just can't imagine how cute the kit is, like a little Thumb Girl. All-in-one design decided its smooth and portable, which can save more favorable space. We can also say it is more ergonomic. Embedded mode, of which contains built-in tank and a 920mAh battery can perfectly protect the replaceable tank and battery.
Shining Colors——
As a girl, this kit really appeals to me for its shining color and voguish stained-glass appearance. Please forgive my poor words. What I want to depict is that its outfit can make me think about The Starry Night of Van Gogh. There are 4 choices for satisfying the needs of different people.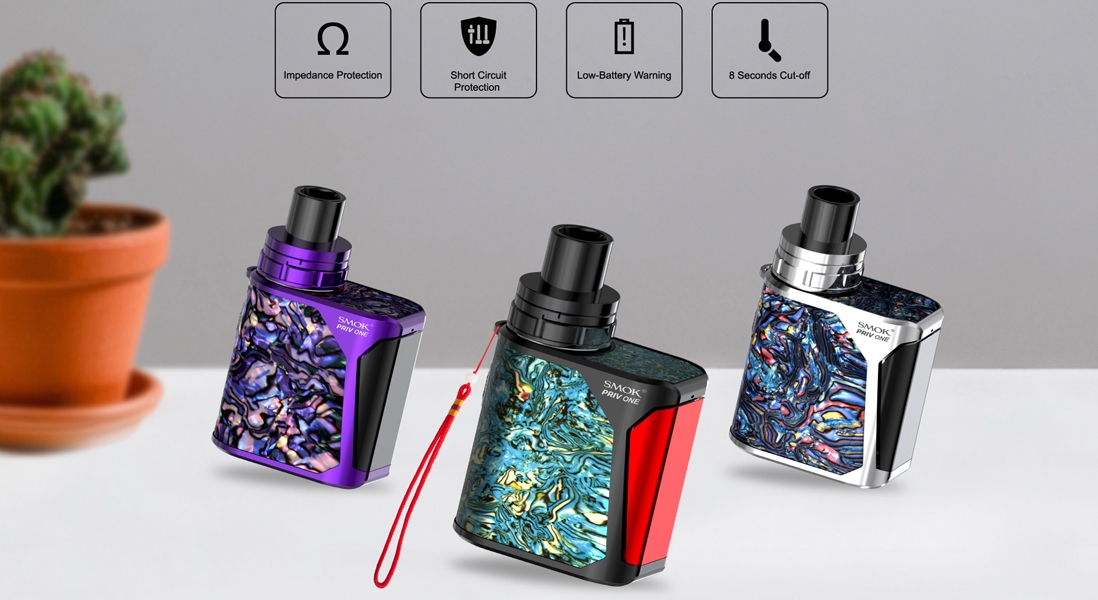 Power setup
It can fire up to 60W when the tank' s resistance value is 0.15ohm, supporting charging via USB cable. I haven't tried 0.15ohm coil, just use normal 0.6ohm dual core. I think the smoke volume is also great. The Priv One mod provides multiple protections, including impedance protection, short circuit protection, low-battery warning and 8 seconds cut-off. So, you don't have to worry about any power-related problems. The whole process in your vaping time, in-time warnings are always there for you.
Last but not least, the big fire button is very User-friendly. It seems to me that small fire button is like Old-fashioned keypad phone. Sometime it will be a little hard for big fingers to put it down, not to mention 5 times. It is a little bit pity that the wattage is basically fixed and its change lies in different built-in coils.
Replaceable top-filling tank
The swivel top cap and sealed leak-proof atomizer base support double guarantee of convenience and cleanliness. The delrin drip tip will provide you with powerful draw effects, tasting better. Uses top airflow system, the tank will deliver you as massive vapor as you'd like. More options to tanks. You can choose diverse tanks with different values of resistance.
Hope this article work for you.